M. Sann
Contents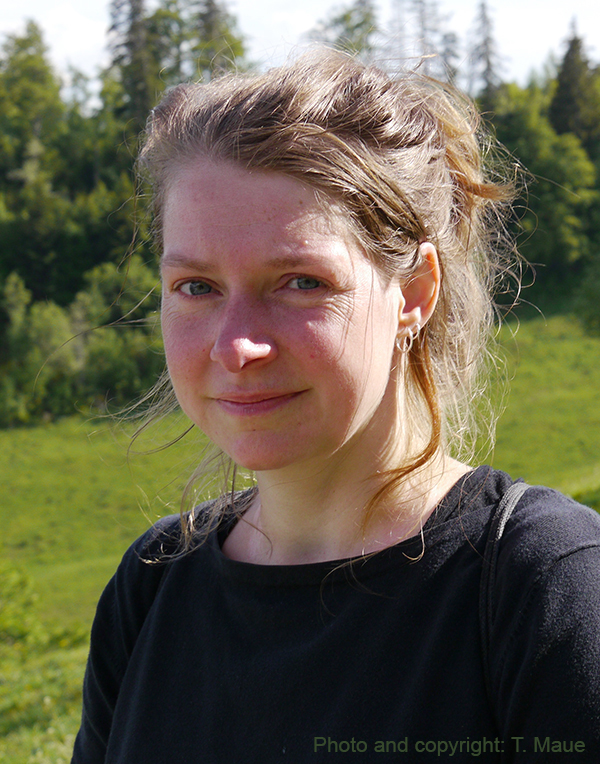 Dr. Manuela Sann
Assistant Professor

Albert Ludwig University
Insitute of Biology I (Zoology)
Hauptstraße 1
D-79104 Freiburg

Room: 1031 (office hours by prior arrangement)
Phone. ++49 / 761 / 203 - 2531
E-Mail: manuela.sann@biologie.uni-freiburg.de
https://twitter.com/sysbiodiv
https://www.dzg-ev.de/fachgruppen/systematik/

Research Interests
My research focuses on fundamental questions in the evolutionary history of Hymenoptera by integrating comparative and functional genomics, transcriptomics, and phylogenomics. My interest in Hymenoptera is not only based on their fascinating morphological and behavioral diversity, but also on their rapid adaptability to newly available food sources. Hymenoptera collectively exhibit a wide range of life styles (e.g., parasitoidism, predation, and pollen collecting) associated with adaptations to efficiently exploit and digest specific food sources. The latter likely also contributed to the tremendous diversification of the Hymenoptera by reducing interspecific and intraspecific competition. In my research, I study the molecular basis of evolutionary and ontogenetic dietary shifts in order to better understand the potential of and limitations in the exploitation of available food sources. My research encompasses comparative transcriptomics and genomics as well as bioinformatics.

My second research focus is on illuminating the phylogenetic relationships of Apoidea. In cooperation with colleagues, I inferred a comprehensive phylogeny of apoid wasps and bees that provided new perspectives on the evolutionary origins of bees and their use of pollen as an exclusive food source. To fill continuing gaps in our knowledge of the phylogeny of Apoidea, I am currently applying whole-genome sequencing technology on key taxa that have not been considered in previous phylogenetic studies.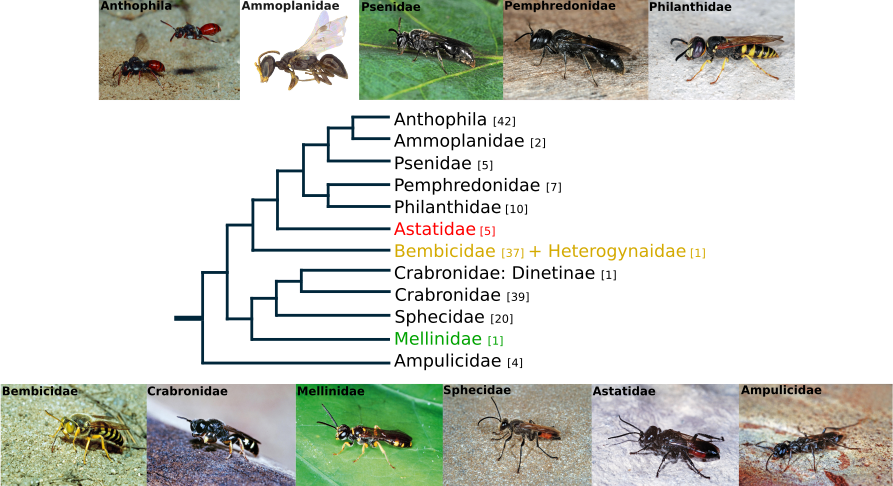 Possible phylogenetic relationships of the major apoid wasp lineages including bees (Anthophila) inferred from analyzing 94,869 amino acid sites and applying a protein domain-based partitioning scheme (Sann et al. 2018). Members of the polyphyletic apoid wasp family "Crabronidae" are scattered across eight major clades. We proposed to include exclusively species of the subfamilies Crabroninae and Dinetinae in the family Crabonidae. Numbers in brackets represent the number of taxa analyzed by us. The phylogenetic position of the highlighted group names Astatidae (red), Bembicidae + Heterogynaidae (yellow), and Mellinidae (green) is still not clear, as evidenced by the contradicting results of three different phylogenomic studies (Sann et al. 2018). Photographs of Psenulus fuscipennis ♀, Pemphredon lugubris ♀, Philanthus triangulum ♂, Bembix rostata ♂, Crabro scutellatus ♂, Mellinus arvensis ♂, Sphex funerarius ♂, Astata boops ♀, Ampulex fasciata ♀ were kindly provided by "Die Neue Brehm-Bücherei" Verlags-KG Wolf, Magdeburg (Copyright reserved) from Manfred Blösch's book "Grabwespen: Illustrierter Katalog der einheimischen Arten" (2012, Band 2). The photograph of Nomada femoralis was kindly provided by Christian Venne (Biologische Station Kreis Paderborn), that of Ammoplanus perrisi ♂ by Lukas Kirschey (Museum für Naturkunde Berlin).
Open Bachelor and Master Topics

The following topics are open for Bachelor or Master students:
CV
since 2017
Assistant professor at the Albert Ludwig University, Freiburg, Germany
2012–2017
Ph. D. in Biology, Museum für Naturkunde Berlin, Germany
2015–2017
Research assistant at the Center for Molecular Biodiversity Research, Zoological Research Museum Alexander Koenig, Bonn, Germany
2009–2012
Master student in Ecology, Evolution, and Conservation, University of Potsdam, Germany
2009–2012
Core group member of "Evolution across Scales: Integrating Evolutionary Biology, Genomics and Geosciences", funded by the Volkswagen foundation at the University Potsdam, Germany
2009–2012
Student assistant at the University of Potsdam, Germany
2006–2009
Bachelor student in Biology, University of Potsdam, Germany
2004–2006
Training as a technical assistant for chemical and biological laboratories at the Lette Verein Berlin, Germany
2003
Voluntary Social Year, Berlin, Germany

Publications
Jasso-Martínez JM, Donath A, Schulten D, Zaldívar-Riverón A, Sann M (2021): Midgut transcriptome assessment of the cockroach-hunting wasp Ampulex compressa (Apoidea: Ampulicidae). PLoS ONE 16, e0252221. doi.org/10.1371/journal.pone.0252221
Korten H & Sann M (2021): Die Hummeln am Tuniberg und im Mooswald westlich von Freiburg – eine vergleichende faunistisch-ökologische Untersuchung. Ampulex 12, 25–32.
Sann M, Meusemann K, Niehuis O, Escalona HE, Mokrousov M, Ohl M, Pauli T, Schmid-Egger C (2021). Reanalysis of the Apoid Wasp Phylogeny With Additional Taxa and Sequence Data Confirms the Placement of Ammoplanidae as Sister to Bees. Systematic Entomology; https://doi.org/10.1111/syen.12475.
Pauli T, Meusemann K, Kukowka S, Sann M, Donath A, Mayer C, Oeyen JP, Ballesteros Y, Berg A, van den Berghe E, Escalona HE, Guglielmino A, Niehuis M, Olmi M, Podsiadlowski L, Polidori C, de Rond J, Rosa P, Schmitt T, Strumia F, Wurdack M, Liu S, Zhou X, Misof B, Peters RS, Niehuis O (2021). Analysis of RNA-Seq, DNA Target Enrichment, and Sanger Nucleotide Sequence Data Resolves Deep Splits in the Phylogeny of Cuckoo Wasps (Hymenoptera: Chrysididae). Insect Systematics and Diversity 5, 1.
Maletti, S, Niehuis O, Mayer C, Sann M, Klopfstein S, Nottebrock G, Baur H, Peters RS (2020). Phylogeny, taxonomics, and ovipositor length variation of the Pteromalus albipennis species group (Hymenoptera: Chalcidoidea: Pteromalidae: Pteromalinae). Journal of Zoological Systematics and Evolutionary Research 59, 349–358.
Sann M, Niehuis O, Peters RS, Mayer C, Kozlov A, Podsiadlowski L, Bank S, Meusemann K, Misof B, Bleidorn B, Ohl M (2018): Phylogenomic analysis of Apoidea sheds new light on the sister group of bees. – BMC Evolutionary Biology 18: 71.
Bank S*, Sann M*, Mayer C, Meusemann K, Donath A, Podsiadlowski L, Kozlov A, Petersen M, Krogmann L, Meier R, Rosa P, Schmitt T, Wurdack M, Liu S, Zhou X, Misof B, Peters RS, Niehuis O (2017): Transcriptome and target DNA enrichment sequence data provide new insights into the phylogeny of vespid wasps (Hymenoptera: Aculeata: Vespidae). – Molecular Phylogenetics and Evolution 116: 213–226. (* these authors contributed equally)
Mayer C*, Sann M*, Donath A, Meixner M, Podsiadlowski L, Peters RS, Petersen M, Meusemann K, Liere K, Wägele JW, Misof B, Bleidorn C, Ohl M, Niehuis O (2016): BaitFisher: A software package for multi-species target DNA enrichment probe design. – Molecular Biology and Evolution 33: 1875–1886. (* these authors contributed equally)
Sann M, Gerth M, Venne C, Tiedemann R, Bleidorn C (2011): Molekulare und morphologische Untersuchungen zum Status des Nomada alboguttata (Apiformes) Artkomplexes. – Ampulex 2: 65–72.